Ok – I may not be an expert when it comes to Chinese games. Some would say that I'm an amateur, while most would say that I'm a complete ignorant. Regrettably I have to agree with the latter.
Even so, no one could predict what it really meant when C said the following yesterday 1 hour before dinner: "Would you mind if somechinesegirlsname came over and play mah-jong?". Thoughtful of C to ask, but of course it would be ok.
What I should have done, was to put on my babelfish/oracle bones hat. A famous hat able that translates sentences spoken by Chinese to one understood by non-Chinese. The hat would have told me this: "Would you mind if somechinesegirlsname, her friend and his father came over and play mah-jong?".
Of course I wouldn't mind, but had I known that 3 Chinese (hereof 2 new to our home and one of those just landed in Denmark the day before for the first time in his life) came by, I would have used more than just 15 minutes to clean our apartment.
C told me the full story as we ate dinner. My reaction was something like: "What? How many did you say?". In C's defence she has a stupid husband and she responded with: "Of course there'll be 3 coming over. Mah-jong needs 4 people to be played *sigh*". Lesson learned and on with the cleaning, as C finished her dinner.
Turned out that it was some very friendly people. The young mans father was in Denmark for the first time in his life, and according to C, he will be here for about 3 months. As usually I will take that with a grain of salt. Things always seem to be different than what I'm told and it doesn't matter how many times I ask to make sure.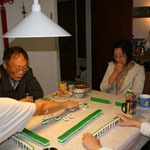 The gang of 4. Would you believe me when I tell you that the nice old gentleman is 70 years old?! I shot his age to be around 55.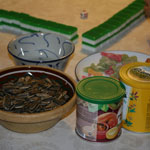 The obligatory extra tools for playing Mah-jong. Sweets and sunflower seeds. I never quite understood the obsession with sunflower seeds. Besides being an noisy annoyance, it wrecks your teeth over time.