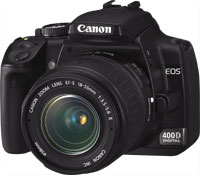 A Canon EOS 400D. Right now these are a bargain at around 3700,- kr with a 450,- kr canon cash-back guarantee. This means a cool SLR at about 3300,-kr. Can't beat that.
The downside is the kit lens being somewhat mediocre, but guess my "talents" won't ever challenge that anyway.
Hopefully I will get it tomorrow, or at least before July, where the vacation goes to photogenic Norway with Kojak and his soon to be "bride" alias the puny and way inferior Nikon D60… erhm. I have to admit that it looks pretty cool too, but its too rich for my blood these days. Also not that good a bargain atm at 1200,-kr more than the the comparable EOS 400D (which is generation older though). Anyway: grats on your new honey – Kojak.
Suddenly it looks like it won't be a eat and drink vacation as normally?