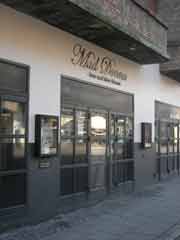 Ok – ok, I may not be a Spike, but I do eat out at times.
As hard as it is to drag C off to a restaurant, I still try to on some rare occasions. Moneys tight at the moment, but that's expected. We only have one income and therefore have to watch every step we take towards ruin carefully. Well, "ruin" is be a bit harsh, since we're actually pretty well off considering everything. We still have to be careful with our bucks though.
Restaurant visits are an expensive treat in Denmark, compared to for example China, so we don't overdo it. Thinking about it, it's only the 4th time or so that we've gone out in the 2 years C has been here. This probably means that I've suggested it about 12 times and been turned down. C is not a cheapskate, but she is way more modest and careful with money compared to yours truly. Fortunately I succeeded in dragging her out this time. No matter how much she cringe when she see the bill, she still seem to enjoy the meals.
I always try to get her something different. Not only because I have huge difficulties convincing her that Danish inspired food can be varied, but also because I want her to taste new things. I know that's what made me tick when we were in China. I got to agree with her in one thing: Danes don't get as many different dishes as Chinese. On the other hand we tend to get plenty of different tastes presented on one plate instead. The Chinese version may be more exciting to the eye, but the taste of modern Danish dishes can be just as varied.
This time we ate at a restaurant called Mad Donna ('Mad' means "food" in Danish). It was recommended by a colleague and he was spot on. The food was great and not too expensive.
To total cost was about 525kr (about 100US$) not including tips. This included a first course and a main course, a glass of wine for me and a coke for C. We skipped dessert taught by an earlier visit, where we were completely set out of play after overstuffing. As guessed we got more than enough this time too.
Here are a few pictures:
C's first course: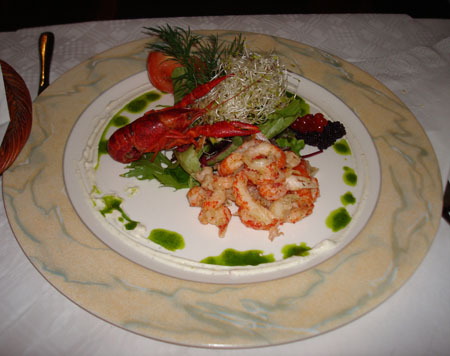 Crayfish marinated in garlic oil with herbs, salad and dressing
My first course: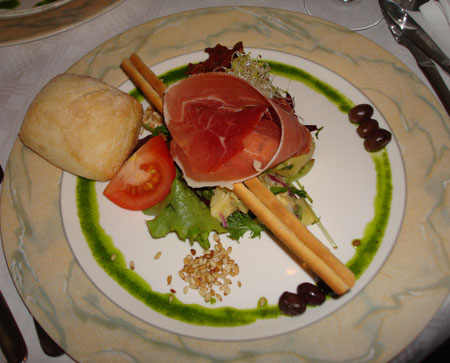 Dried Parma ham in truffle oil with artichoke salad, garlic grissini and basil pesto
C's second course:


Fish plate of the house. Oven baked salmon and herb gratinated smear dab and crispy rose fish. Served with vegetables of the season and piquant sauce
My second course: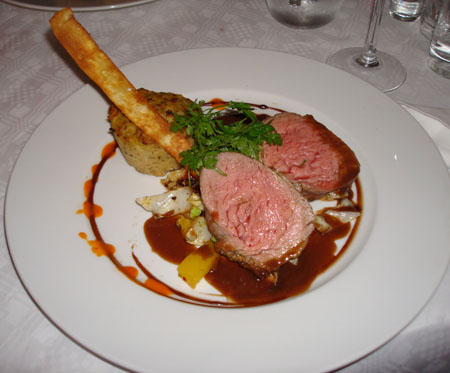 Tournedos made by sirloin undercut, served on potato pie, sautéed vegetables of the season and marsala jelly
Tasted heavenly and the pictures pretty much lie about the quantity of food. There were plenty. C didn't care much for the bloody meat I got, but I have to say that it is close to the best meat I've ever tasted. Tender and tasty.