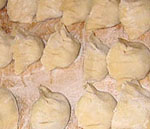 Well, not the exact part of cooking them, but preparing them is a bloody mess. Mostly because I am only allowed the extremely boring part, where you roll the suckers until your whole right arm is numb and your left hand feels like spaghetti. The clever reader adds: "You know it wouldn't be as hard if you didn't eat as many Peter?". Well doh? The YOU try to stop eating those mouth-watering yummies, ok? It's impossible. The only outcome I have witnessed is that you eat until you're full and then some. But ok, there may be some picky freckled guy out there somewhere who can only eat 10.
That's the dilemma of course. They taste bloody great and that C doesn't whine as much as me when it comes to the work. I'm not saying that it's because I do the boring harder part and that I'm a whiner, but I'm not saying that it's a lie either.
The whole grumpy look on my face made C ponder about what to do to ease my bitching. So she started babbling about buying a dumpling (Chinese: jiaozi) machine from China, but that would be an expensive solution with package, freight and all. That's when I got an idea. Why not buy a pasta machine and see if that worked out?
So I did. After browsing 6 shops or so in 2 weeks, I gave up. All the shops sold them, but no one had any in stock. Somehow all shops only carried the Jamie Oliver model. This may also be the reason why it is in high demand. So I caved and bought the darn thing online. 8 days later it arrived.
Cost us 400DKR (about 85USD), which I personally think is a bit steep, but as it turns out it's well worth every penny. Rolling the circle formed pieces of doe is much easier, and at least twice as fast (read: compared to my speed and not the Queen of jiaozi rolling of course). It doesn't hurt that the muscle-powered machine talks to the little boy inside the man, so I kinda like doing the job now (lets see for how long).
It took a bit of training to get it right and I have to agree that even though the doe will not become Nazi-regulation-circular, they will be more than usable and they still taste like heaven.
Here's the rundown in pictures: