Disclaimer: I am not paid to make this review. It's done because I really like this bag, and feels it deserves a review (I couldn't find others on the net when I tried before I made my purchase. I guess that goes for others too, so why not help them out?).
This Tuesday I got a parcel with my new Lowepro Fastpack 250 multiuse/camera bag.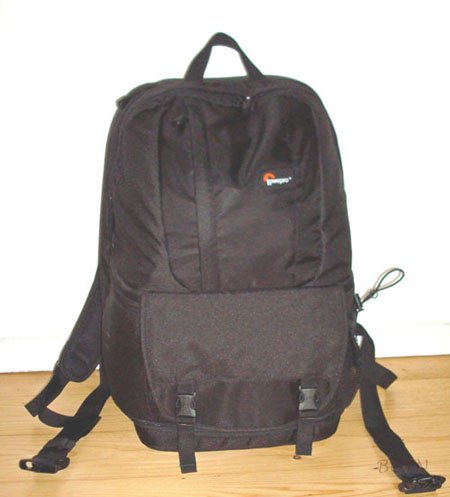 The Lowepro Fastpack 250
I just HAD to write a review, even though no one asked me (that's just the kinda fella I am). You didn't ask for it, but you got it!
I have checked the net out for a long time. I needed a backpack to replace my "normal" one. The new one had to combine the following 3 purposes (in priority):
Easy DSLR camera storage (with fast access to the camera)
Roomy enough to carry an extra shirt, jacket or similar
Room for a laptop (in this case a 15.4″)
I also valued the following:
Two shoulders traps for extra comfortable use (unlike the Lowepro Slingshot models with only "1½")
Pockets for whatever you carry on a normal day (cell phone, papers, pencils, paper tissues and so on)
Nice design, but still a neutral black/grey look, which secures that it doesn't look like it I'm carrying the crown jewels (thief attracting), but still enough to make people say "cool bag" at closer inspection. Tough task, right?
If you wonder, the Fastpack 250 does all of the above, except for the design which is lacking imho.
The hunt starts
Some might say that it would be an easy task with all the many different amazing backpacks on the market. I just couldn't find one that had combined those mentioned 3 abilities and still weren't too pricey, bulky or (insert other flaw).
My initial thought wasn't Lowepro bags at all. KATA seemed more interesting. They have some cooler looking, yet functional bags. Unfortunately there was always tiny thing that didn't make their range of bags perfect. Either they didn't support 15.4″ sized laptops, or the bag was described by buyers as "sucking water rather, than repelling it". Small stuff like that.
The most difficult task for me though, was to find a bag, which had the easy access room for my DSLR camera. The choices were limited, and I almost bought one of the Lowepro Slingshot bags. Eventually I voted against it, because it didn't look comfortable or fitting for long walks or daily use. I already borrowed my brothers Slingshot 100 on a recent vacation in Norway, and even though I loved it, it wasn't really comfortable for long days. It didn't have good room for much else than the camera either.
Eventually I fell over the Fastpack 250. My first reaction was that it didn't look cool and I dismissed it as being too "schoolbaggy". It also looked like 2 separate bags being stitched together on the middle: A camera bag in the bottom and a smaller multipurpose bag on top. Actually that's pretty much how it is divided inside, but why let this show on the outer design? So I looked elsewhere for another bag. Eventually I always ended up with the Fastpack. As you already know, I bought this in the end.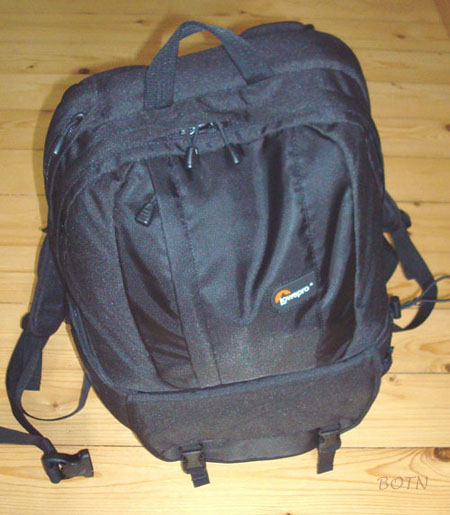 The Lowepro Fastpack 250
So what's so cool about it?
Well, as mentioned, I found the design both boring and ordinary. The usability on the other hand, is nothing less than excellent for my intended use: An everyday bag that also fitted my DSLR camera. I normally ride my bike to/from work, and I want to bring my camera if a cool got-to-shoot-situation suddenly shows up.
When I fruitlessly searched the net I even considered if I should design my own bag and start the sewing machine (yep, I was that desperate). When I finally decided on the Fastpack I slowly realised that it was exactly how I would have put it together myself. The rooms are put logically and I find it hard to see what could be changed except the outer design.
Interior layout
You could say that the bag is divided in 3 bigger compartments:
• DSLR camera room
• Laptop room
• Storage room
Then there are the smaller pockets around the bag. They are intended for the stuff that you can't live without (like wallet, cell phone, etc.).
The bottom compartment (DSLR compartment)
The bottom compartment is made to host a DSLR camera. Not only is it flexible and can be adjusted to match the length of your fitted lens, but it also has smaller spaces for extra camera gear. As you can see from the one of the pictures below, I need more gear to put this compartment to good use (my wife/wallet disagrees so far though).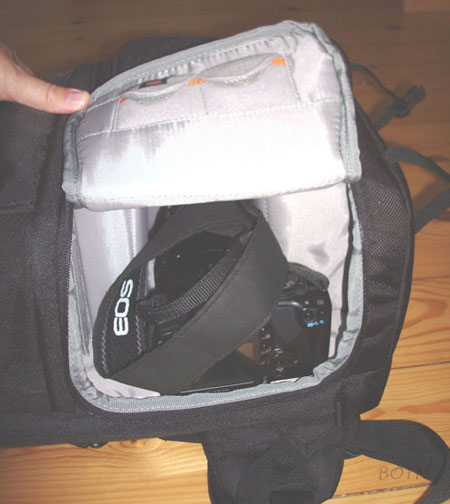 The easy access room opened
The best part of this room is the easy access side-entry opening, that lets you pull out your camera without taking the bag completely off first. On Lowepro.com, there is a product video that shows exactly how this works, if you're curious. You should note that even though this is a great ability, it becomes more difficult to use as you stuff your bag and it gains weight. The overall weight of a full bag makes the process more cumbersome, but it doesn't make the function obsolete. Keep in mind though, that it's not as handy as with a lighter Slingbag type bag. This function is my main reason for buying the Fastpack and I haven't regretted it one bit.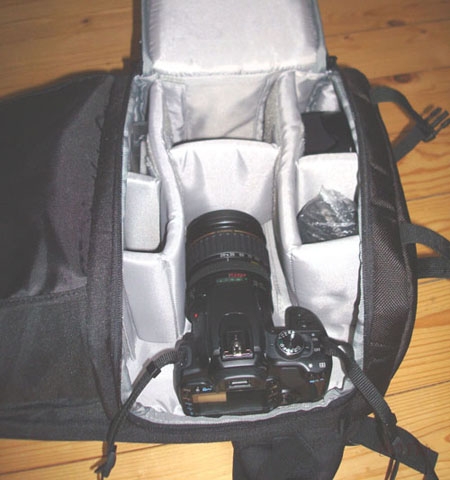 The easy access room completely opened
The room can be unzipped further, so you can access all the room from the front of the bag too. I'd say that that's not what you'll do mostly, unless you tend to change lenses and gear often. On the "lid" of the room, there are 2 small memory card sized pockets. Nice touch and very handy.
(Section updated 26/2 2010) There are a few worries that might be of interest to potential buyers when it comes to the camera room. For one it's not easy to make the room fit your camera's lens 100% and second the lens/accessory rooms can't be adjusted much to fit different gear. The camera will therefore usually be a bit loose. You should note that I don't have one of the hugest lenses fitted (canon 400D with 28-135mm lens fitted), so might only be my problem. On the other hand, I think it won't matter that much if the camera moves about slightly, as the sides are extremely soft (my camera/lens hasn't been damaged by this so far, so might not be an issue at all). The lens rooms may not be a perfect fit for everyones needs either. So bottomline, I do miss a few extra movable Velcro "walls" to secure the camera round the top of the lens plus some differently shaped walls to change the use of the accessory rooms.
The top compartment (storage room)
Its not on the big side (unlike what Lowepro might claim at their product video). Still, it's big enough for my needs, which would be an extra T-shirt, thin jacket, my lunch and maybe a pair of light backup shoes for that rainy day. I'd say that you could fit all of the mentioned at the same time, but it would be awfully tight packed and I wouldn't recommend it. The room is not deep (there has to be room for the camera in the bottom of the bag), so don't expect to bring a newly pressed shirt and keep it unwrinkled.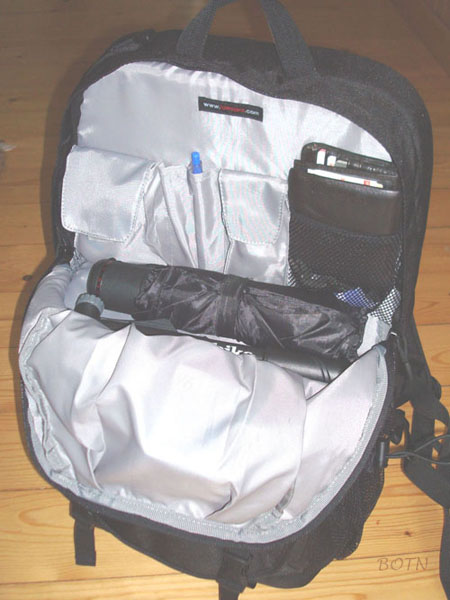 The top compartment for additional storage
The compartment also contains the classic pockets for your wallet, cell phone and some pencils. There are more pockets than I need, but that's how I like it. You can never have too many rooms, can you? One of the two rooms in cell phone size, I personally use for my USB cord (essential for those important transfers from my camera to a computer). My cell phone is placed elsewhere, and I'll get back to that.
The laptop compartment
Well, what's there to say really? My 15.4″ laptop fits. On a normal daily basis I don't bring my laptop, but it's nice to know that it's possible when needed. Instead I mostly use this room for papers. It may not be intended for that, but it does the job very well.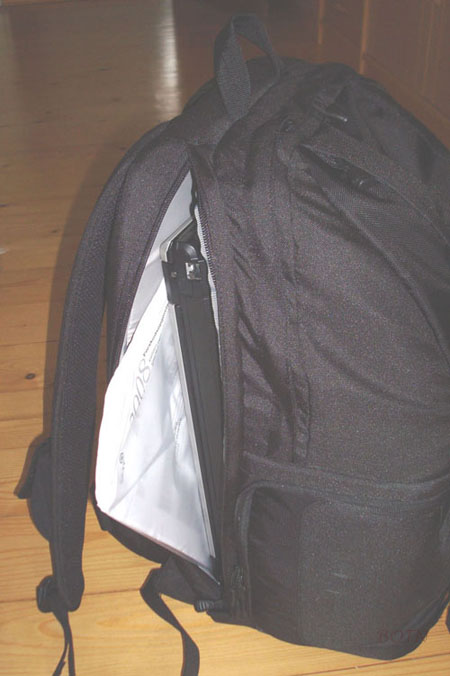 With laptop and papers inside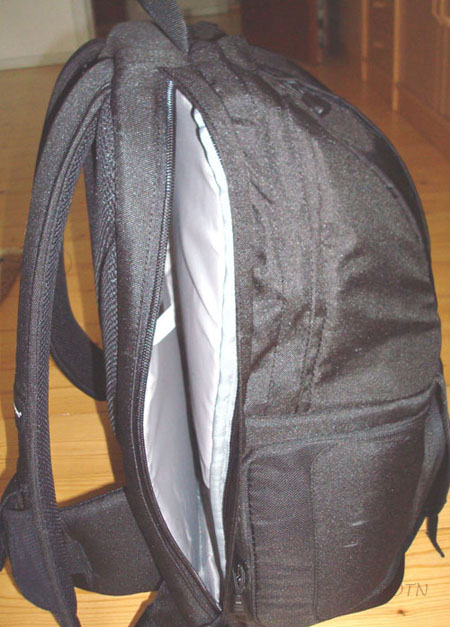 The laptop room as it looks empty
Other rooms
There are 3 other smaller rooms in the bag. Two of them are placed on the front of the bag. I use the biggest one for paper tissues at the moment, but there will probably be better uses for this room as I grow into the bag. It has 2 small pockets to strap the object so it won't move around when you carry the bag. It is placed behind a loose "flap" of that covers the room from rain, and secures the camera compartment. Not sure this is necessary, but it does make it harder for pickpockets to get there.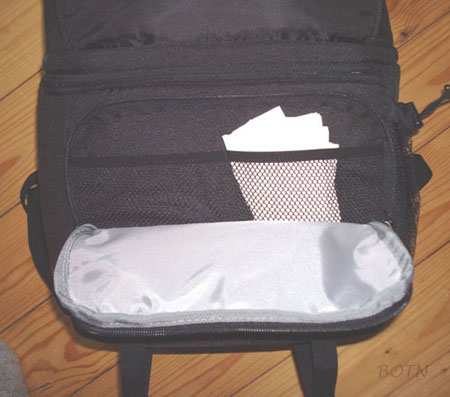 Not sure what to do with this room, but sure seems to work for holding paper tissues
The other room is entered through the side. Nothing special about it and it's like a big pocket. I guess it would be good to fit bus cards, maps or similar, as long as the items isn't too large.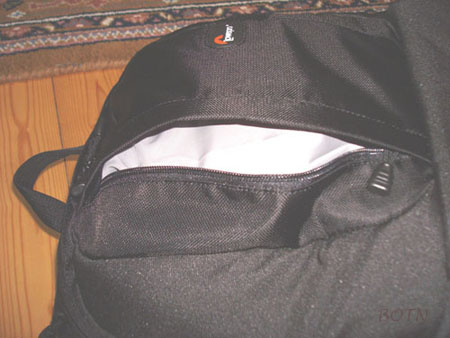 Flat room intented for fitting objects like bus cards and similar
On the opposite side from the camera opening, you find a net pocket that can be used to carry a bottle of water

Net pocket on the side
Then I should mention the last (but not least) Velcro-sealed pocket for your cell phone, mp3 player or similar (see I told you, I'd get back to where I put my phone). It is strategically placed on one of the shoulder straps for easy access. I never knew I needed this option, but I really do. I have fiddled with my old bag to get my cell phone out before it stopped ringing countless times. Now – no more. I love it.
My only concern about the room is its size, which may fit my Sony Ericsson 750i perfectly, but it can't handle a bigger PDA/HTC/IPOD. Also it is not water resistant when closed, as the top sides to the phone are open. I regard this issue less of a problem for most users though, but may be worth noting.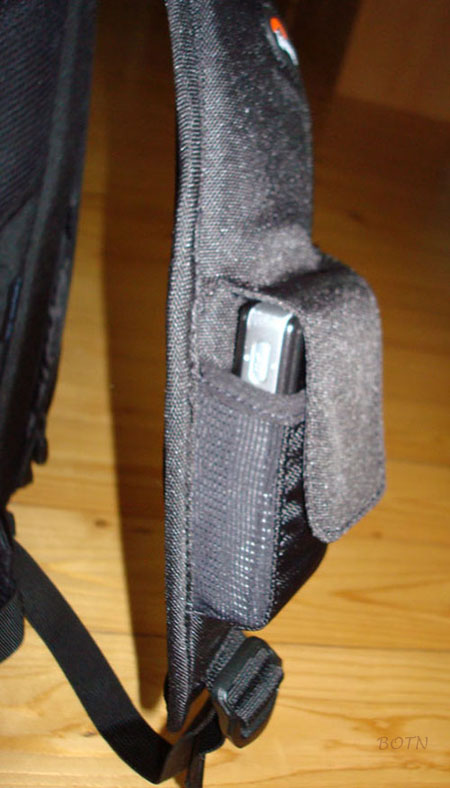 Phone pocket on the shoulder strap
Build quality
Build quality is excellent. Lowepro may not be first in line regarding cool exterior design, but I have to acknowledge that their build quality is top notch. I can't say that I have knowledge of how the bag does when used many years, but compared to my old ordinary backpack, I'd say that it's at least equal. We talk about a bag that has served me for at least 7 years and its still in good shape.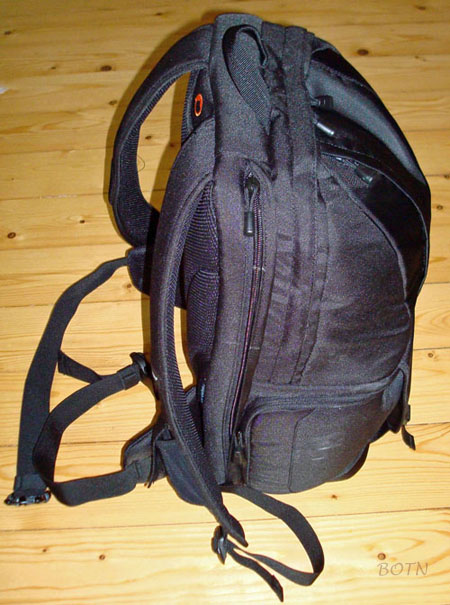 Seems hard to kill off, right?
Comfort
Now – I know that not all people are build the same and my opinion about the comfort of carrying this bag, may not match yours. Still I'd argue that this bag is very comfortable to use for most people, even when it is full and heavy. Let's face it, no bag is a dream to carry, and we'd rather not have to if we had a choice. On the other hand, we also know that most of the time it's needed. And when so – you'd better have a good bag. Fastpack 250 is such a bag.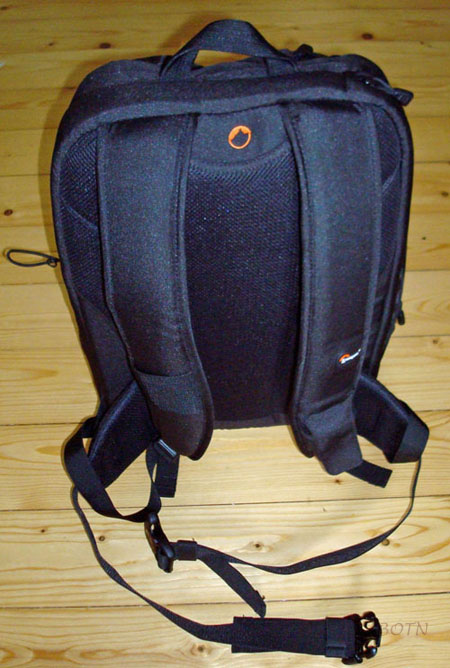 The padded back and straps
The shoulder straps are well-padded and seem durable. There also an extra waist belt to help you distribute weight evenly (not detachable though). The back of the bag is soft (but not too soft) and the fabric is filled with tiny holes (almost like a sturdy net) for the heat to escape and may save you a sweaty back.
It's not the most expensive bag out there, but it isn't the cheapest either. I'd call it a good value for money bag. I'd also bet that you can find even better and more comfortable bags out there, but not with the same options and same price range. To be honest I haven't checked for pricier alternatives, but not sure you can match the options this bag has anyway.
Conclusion
It may be needless to say that I have come to terms with the slightly boring exterior design, but I'll mention it anyway, because that really is my only main concern. Everything else is as close to perfect as I have yet seen a bag to be.
If you need a camera friendly bag for everyday use (and one day trekking), that offers easy access camera room, space for extra lenses, extra storage and even room for most 15.4″ laptops, then I highly recommend Fastpack 250.
The price is acceptable to most who want a high quality DSLR camera ready backpack (I bought it for 180US$ here in Denmark). There are alternatives, but not in this price range. I bet that other producers will follow with a bag with same options soon, but right now, I haven't been able to find a comparable one (I'd love to hear from others if you have though).
The build quality is excellent and the bag is comfortable to use. I use mine every day, and already wonder how I could live without it.
There are alternatives to this bag, if you for example don't need extra room for laptop or storage, so check the market first. Id say that the bag is pretty big (bigger than my old ordinary backpack), but not too big. I don't feel like a hiker when I carry the bag, but blend in nice with others who use backpacks every day in the city.
Using the bag for a singe day's trekking is also quite nice. It's not a replacement for a real hiker's rucksack, so don't expect it to be. It's first and last a camera backpack for every day use. It brings the best from 2 worlds: Everyday storage and a good comfortable camera bag. Please note: If you don't have a DSLR camera – don't buy the bag and complain to me about the bags design afterwards.
I bought if online from a Danish shop for around 180US$ August 2008.
Less relevant info (worth mentioning though)
• You can get the bag in a slightly bigger version named Fastpack 350.
• There are 2 older versions out there too (Fastpack 100 and 200, but they don't offer the laptop room)
• You can get the bag in three different colours: Black (the tested one), blue or red.
Upsides
• Water resistant (don't dive with it though)
• Excellent easy access DSLR camera room
• Possible to take your camera out without taking the bag completely off
• Acceptable sized room for your accessories, spare clothes etc.
• Laptop room
• Comfortable fit
• Price is good
Downsides
• Loose camera in the bag
• Phone-pocket not water resistant
• Price may not appeal to all
• Design may not appeal to all
• Few posibilities of adjusting velcro walls in camera room (added Feb-10)
Update: Still use the bag and still love it… now more than 4 years later and counting. Input or questions is appreciated, so ask or tell away good people. :-)
Links: