Fifth in the series of "What we did in Norway on our vacation pictures" and some thoughts
I had a small discussion with C the other day. It followed one of my many friendly taunts regarding C's love for fruit and fish. More precicely: free fruit and fish of course. She does love them bought too, but I've noticed that there is nothing better for her, than for example cherries freshly picked from a public tree (read: free).
The fruit could be second rate tasty, but that doesn't matter, they are the best ever. Last year, C picked many kilos of cherries from a park. She kept them in the freezer and took out a few 100g once in a while. Some weren't even all red, but they were still the best cherries in the world.
She also loves apples, pears and plums. Sour apples are good too. If they are too sour, she just doesn't eat the skin, or give them to our rabbits.
On our vacation in Norway we caught some fish in the fjord. None were too small. They were free of charge and C loved them. She also managed to catch some tiny crabs. They were so small that they couldn't have had any meat on then. Fortunately she only found out how to catch these on our last day there, so she didn't manage to overstuff our portable freezer box. The crabs were used for hot pot back home in Denmark. Luckily I wasn't home when that feast was prepared. I don't care much for fish/sea smell. According to C they were yummy.
So back to our discussion. After friendly teasing C a bit about Chinese peoples love for free fruits and fish, she suddenly said: "Not all Chinese are like that, you know? You can't generalize like that". And she was of course right. On the other hand 99% of the Chinese has a bit of that in them.
So I agreed that she was right, but also pointed out that her entire family also had a fondness for free berries, to which she of course protested wildly. The protests stopped after I went to my computer and pulled out a picture from when we were in China showing her entire family buried inside a bush with berries and C in front having just turned around with both her arms in the air with a big happy "I-got-free-berries-smile". After showing her that pictures she just grinned, punched me and said: "Du er dum!" (in English: You're stupid!)
Gotta love her. Generally she always gets most from everything and in most cases it turns out that I'm just a no good Danish slacker. She's excellent at shopping. She always gets best price and never buy stuff we don't need. Our money budget is lower now than when I lived alone! That ought to start some thoughts inside my thick skull right?
Here are some related pictures from Norway: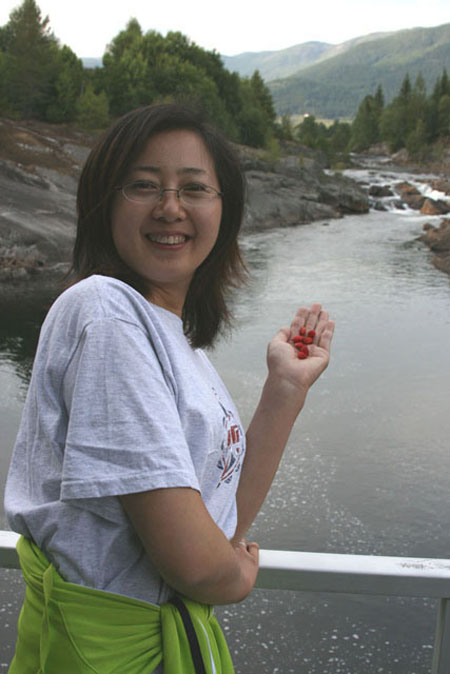 C showing off some wild strawberries she just found while we had a break in driving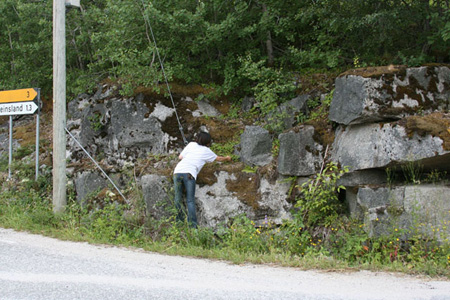 C looking for more wild strawberries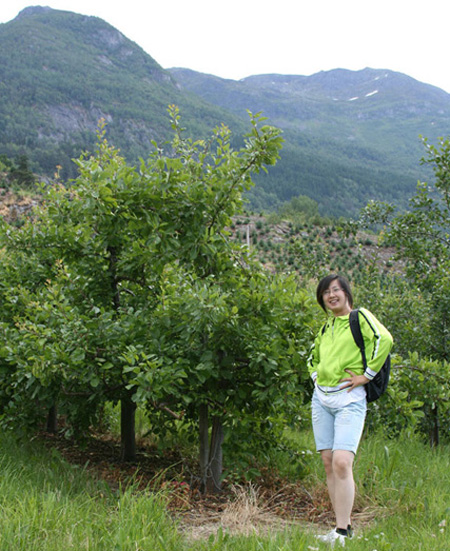 C and an apple tree plantation (she loves apple trees that much, yes)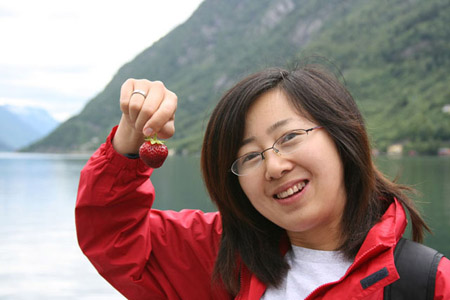 C showing one of the many strawberries I bought for her after standing in line for 10mins. They were excellent. A Norwegian lady told me that they were the best in Norway. Some statement, but after tasting them, I would tend to agree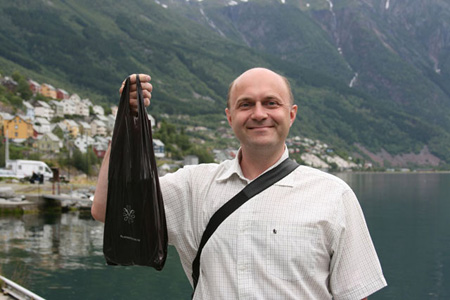 Kojak showing off his catch – a few bottles of Norwegian cognac bought at Vinmonopolet