So C has vacation atm. Her exam is over, and she is waiting to start her new vacation job. So how does she spend her time?
Well, she's not a lazy woman, so she keeps the place clean and does not insist that I help as usually. I like it. It won't kill all the daylight hours, so she decided it was time for a reward after the last half year of studying (and she deserved it if any). So she started her computer and loaded her Chinese video-streaming software (probably including worms, Trojans and other goodies) and started watching Chinese series.
Streaming works extremely well. Even though it mostly only streams a 20-60Kb/s, its still decent quality. I don't get those series, but on the other hand, C doesn't get why I like playing computer games. So it's a tie.
Here's a picture of the hardcore watcher: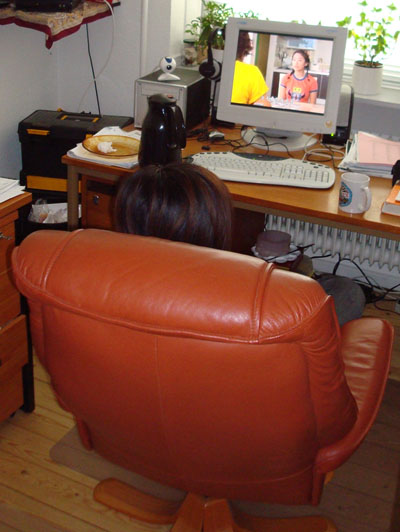 C can sit like this for more than 8 hours daily. Some times she even did about 16! As long as she's having fun and enjoying her vacation, I don't care. Soon she will be busy with work and later school, so now's the time to let loose.