Find the flaw:
An ad from a Danish newspaper: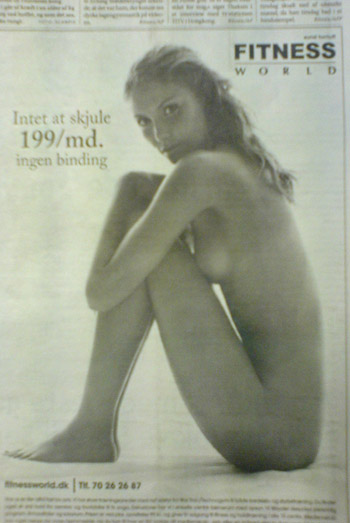 The same girl in a video on Fitnessworld's homepage (screenshot):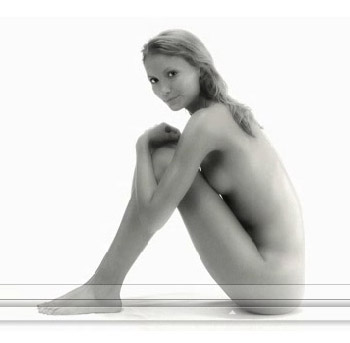 The full picture/video from Fitnessworld's homepage:


See – I don't mind when you use Photoshop. I do it myself. But I resent when you do it this bad and with hidden agendas. I better explain:
Check out the first picture and notice how this pretty girl – the only one in the world without anorexia who – can show a completely straight stomach even though she is bent over her legs. Then check picture number two. Same girl, but this time a screenshot from a video playing on Fitnessworld's homepage. More difficult to manipulate and therefore a more normal looking stomach, wouldn't you say?
It pisses me because Fitnessworld so obviously overdo the Photoshopping. And this is just one of the horrendously many loose-weight ads that is present everywhere these days. The holidays are over and most people carry, not only extra pounds, but also a bad conscious from Christmas. What is worse is that they portray this girl with an unrealistic figure and have a slogan posted on the same ad that says: "Intet at skjule" (in English: Nothing to hide). Something Fitnessworld obviously has themselves.
I spotted the Photoshopping immediately when I saw the ad. The stomach looks too straight and the contrast is bad. Also the stomach is too dark when there should be light coming through there. Not the worst job, but certainly not the best. Wonder how many fell for it?
This girl looks way better with her normal stomach in my opinion. I'm just happy I'm not one of the anorexic prone young girls who see this ad after a fattening Christmas.
Update: You can find the video here Video Seems Fitnessworld decided to remove it.
Update 9/2-2012: Found the video again: Click here