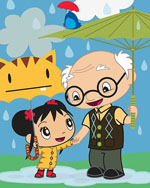 In attempt to teach our kid some Chinese, C got hold of some VCDs with Chinese children's songs. Actually calling them 'Chinese', may be overdoing it, since many of the melodies are oddly recognizable to me (like Jinglebells for one). Anyway, the lyrics are in Chinese, and that good enough for the purpose.
Yesterday, as I was watching Mark and had the TV running with VCD in the background, I noticed a Portuguese flag suddenly popping up in one of the cartoons/songs. I knew the melody, so I tried to put it together, but no luck.
Then suddenly there was a sad child slowly moving towards an adult woman. They met in a big hug. In the subtitles I spotted "Macau" as the one non-Chinese word. I figured it was a song about Macau and asked C what they were singing. "It's about coming back to the motherland" she informed me. Ahhh propaganda, you have to start early to get the full effect. Why haven't I seen one of those with Greenland and Denmark yet?
This is the same VCD also has cartoons showing children are working hard in the field, a father smacking his kid in the behind for bad grades and of course sports an annoying and naughty Donald Duck rip-off being chased around by a kid. The happy ending is Donald being blown-up while the kid is laughing.
I haven't asked C about any of those and not sure I will either. I'll just accept that Denmark is not China and vice versa and then move on… As usually.