After my less successful trip to the DVD shop, I decided to spend the evening relaxing at the hotel.
The day before I made arrangements with C. and the interpreter to contact me about what to do the next time C. and I had time to meet. The interpreter called me, and asked me what I would like to see. We talked a bit, and also a little bit about how I felt things was going with C. Actually I was very positive, and really felt that there was something to build on. C. on the other hand, was a bit worried about the language barrier. I perfectly understood this, since we still haven't tried being without the interpreter. Still I guess I was a bit more the "it-will-be-all-right-type" in this regard (my friends will tell you otherwise and call me cautions and pessimistic). I know that we would have trouble understanding each other, but I also know that time would even this out.
I let slip to the interpreter that eventually C. and I would have to do on our own, and that any time would be as good as the next. We hung up and the interpreter called C. A little while later my phone rang. C. had agreed that we should try meeting without "lifeguard". There was one "but" though. C. suggested that we tried, and had the interpreter "on hold" if she felt uncomfortable. It was actually very good thinking though. Nothing worse than wasting a whole day feeling awkward without communication. Now we had a lifeline, and this calmed C. a bit I think. Also C. had another plan. One thing I feel stupid for not figuring out myself. She suggested that we went to a local bookstore and looked for an electronic pocket translator. Excellent idea. I have never seen any of these machines before, but had an idea of them being helpful in many cases.
We meet at the hotel, and headed of for the bookstore. At first a little strange that we could not converse, but to my own surprise you seem to find pleasure in smaller words. Recognizing things and naming them in Chinese or English gave us small successes. It may sound weird, but both C. and I learned a bit of Chinese/English words on our walk.
Arriving at the bookstore I soon discovered that a Chinese bookstore is nothing like the ones I know from Europe. The bookstore was built in 4-5 levels with books lying everywhere. There must have been a system of a kind, but I couldn't tell. On each level there was glass counters with many different electronic translators, mp3 players and similar gear. C. is a smart business woman and we didn't linger much at each counter. One thing I learned pretty fast is that shopping is not done fast in China. There are always better offers if you care looking around. We finally found a decent machine. There were a myriad of machines to select from, and since neither C. nor I had any experience with these things, we had to ask a lot and get a demonstration or two. We found one that was without colour display, but was able to understand sentences.
I never calculated with this expense on my planning the trip, but I felt the purchase was essential for our relationship to develop. The price was about 2000RMB (I really can not remember the exact price but it was in the area, and it was worth every penny!). I soon found out that I did not have enough RMB with me. I needed to use dollars. We headed to a small bank branch inside the bookstore, but soon found out that they could not help with my dollars problem. We were directed to a bigger bank down the road. Well, "down the road" is an understatement, as we had a long warm walk down one of Shenzhen's main streets.
We finally arrived at the bank and I exchanged the dollars necessary. Like all other places in China, the employees investigate money really thorough. I later learned that there is lots of false money going around and that I really did not look that suspicious.
A long walk back, and we finally bought the pocket translator. It is actually a really nifty little thing. If you accept the fact that it often makes fatal mistakes translating, it still improved our communication a lot.
For those that do not know these machines, I can tell that it has many great features. Besides the obvious translation, it also has a Chinese character recognition feature where you use a small pen writing directly on the pressure sensitive LCD screen. This is very useful from a Chinese persons view, since the alternative is using the phonetic signs to create the final characters, which takes a long time. Besides this great feature the thing actually can pronounce words. There is a small speaker on the front, and is can help the user to learn pronunciation. I even think it can play mp3's too, but this requires an extra memory card.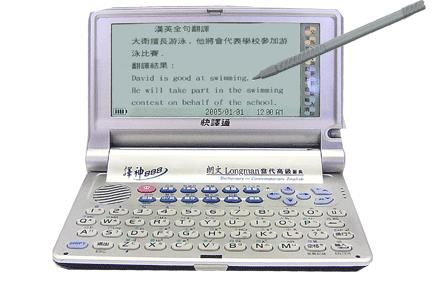 More to come