After a good nights sleep I began wondering what to do with my day. I had the whole day to myself, since C. had to work. Even though the interpreter had offered her services showing me some of the city, I decided that this would not be the same without C. I had become very fond of C. during the first days, and noticed that she felt the same. I guess a short break would do us both good, since we would have time to think the first days over. Therefore I really did not feel that bad being all alone in Shenzhen for a day. Also it gave me a chance of getting my first "I-miss-you-feeling".
After my bath I decided to watch a little Chinese TV. There were 2 English channels available. Both Chinese controlled. I really never found out when the English shows were on, but it really didn't matter. I mostly zapped the Chinese channels anyway. It may sound strange, but even though I understood nothing at all that was said, I learned a little about Chinese culture anyway. 2 days I was fortunate enough to find an English program for teaching Chinese, and picked up a few words. Those wondering what Chinese TV are all about I can tell: Series, game shows and commercials. Just like in most western countries. One difference regarding the series though; many Chinese series tend to be the old days. The series usually contained a few heroes fighting the evil. Lots of magic and martial arts involved of course.
A lot of commercials were about breast enlargements either by surgery or natural medicine pills. Seems like this is the newest trend; to destroy your body, even if you really do not need to. I also noticed a few public sponsored warnings against the spreading of flu, dengue fever and similar. One commercial that really bugged me was about a Digital video camera that probably was cheap rubbish. The one thing that really annoyed me was that that a westerner was used as the "specialist" in the commercial. He was the type with slick hair, a stupid smile and "intellectual" glasses. He was a real bad actor, and had the most fake smile I have ever seen. Why the commercial creators ever found this guy slightly fitting I will never know. It made me wonder though. Somehow it seems that it is used a lot to make a westerner the "expert" in commercials in China. I don't know why, because the guys I saw could be replaced by a million Chinese and seem more believable. I guess this is the same as we do in many of the series rolling in Europe. No series with a scientist, doctor, computer wiz or similar without 99% probability of an Asian man/woman playing the part.
After watching some television I decided to go walk a bit around in the neighborhood. I needed some breakfast, but since I was not that hungry, I never had any real breakfast. Somehow my mornings turned into noon, before I got anywhere. I went to my favorite restaurant to get some nice dishes. First time there alone, but it went rather smooth. At the counter I could point at the desired dishes and get a stamp on my bill. Pretty easy actually. The food was as always great.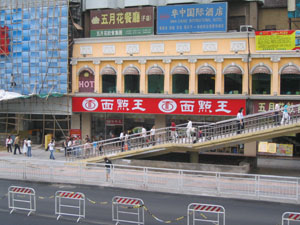 Asking at the hotel reception I was told that I could get online on a nearby Internet café. I went there but almost never found it. It was on 4th floor, and I had to walk some dimly lit stairs that held no promise about finding the café. Still I pushed on and to my big surprise there was a very good Interned café placed there. Went to the reception, and used my "stupid foreigner" face to get some attention from the employees. With the usual mix of English and hand movements I was set for 2 hours of online time. This at the low price of 15RMB. One thing that puzzled me was that they needed my passport before I could check my mail. I guess this is a security check if the café should be held responsible for something illegal in the period I was there.
I know about the strict policy regarding the Internet in China. On the other hand it seems pretty weird that some homepages are blocked for using foul language or showing some skin, when lots of Chinese can copy or download movies/porn without ever thinking about copyright. In Denmark many people are terrified about getting caught because they downloaded an mp3 file or two. The restrictions in China are a bit different though. There is a pretty tight security in many ways, but none in the copyright part. I experienced this myself as I was browsing a forum. A bad word was found in a reply to one thread, and instantly this part of the forum wad blocked. Never experienced this in Denmark. I wrote a few mails about how I was doing to my family and some of the guys and colleagues back home and left the café.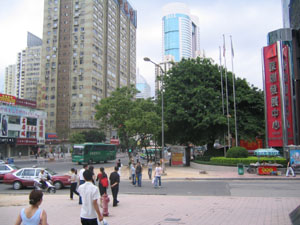 I headed in no particular direction, but soon found myself browsing a DVD store for some new movies to bring back home to Denmark. The employees were only 14-16 year old boys very eager to help me collect a some movies. Even after I politely rejected a "shadow" following me around and point at what he decided was great movies. I have always been pretty picky about movies. 99% of the movies pumped into the marked really do nothing for me. They are all somewhat rip-offs or copies of older movies. Same plot with a twist. I mainly fall for cult movies or movies with great acting. I found a few acceptable movies in the shop, and made the "shadow" put these in the pile I was building on the counter. When I felt ready I went and paid for the lot. The boys were delighted. They "scored" in the region of 300RMB and almost padded my back when I left the shop. Later when I returned at the hotel I found 3 movies that I did NOT remember picking. I couldn't help but laugh a bit. Even though I was "ripped off" it was no big deal. 3 movies at 10-12RMB each really did not break my economy.
More to come