I hate the summer. Not because it is too hot and I sweat like a fountain. Not because I am prone to sunburns. Not because my bodily stature never shone under the term: "Less is more". Not because the weather gives me absolutely no excuse for taking the bus instead of my bicycle.
No, I hate summer because it triggers the crazy gene in some men. The gene that makes them hear a voice inside their heads say: "Go on – let the world see your beauties. Yes – do it – let your fat feet hang out and wear your sandals".
Sandals – it's not a shoe. It's a freaking sole with straps!

I don't mind women wearing sandals, since they actually have some ways to make them stylish. They can even paint their toenails and buy a wide range of different types and end up looking acceptable. Well at least most of them (for example I believe that the law should be altered to protect us from Rosanne Barr ever wearing sandals, but that's another story).
One thing I never will understand is why some men feel the urge to wear these suckers here in Denmark. I mean, we are pretty far north on the globe. We have "sandal weather" for maximum 3 months. I can understand why some people feel the heat working on their feet, but there must be alternatives to sandals? Personally I have some lighter shoes that I use during the warmer days. If you have sweatty feet, what's the logic in releasing them into the open air other people breath?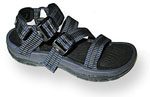 Sandals for men – what the hell were they thinking? Feet may be the most disgusting part of a man's body, so why invent a "shoe" that flashes them in public? I hate the involuntary shock I get every year when someone flashes his big white hairy feet in a pair of leather strapped soles. Disfigured thick heel skin for all to see. Bulging red toes with yellow nails sticking out. Almost as if they are angry that they have been trapped inside a shoe all winter and just need to show the world how mistreated they have been. I hate it. Keep your "winter secrets" to yourself… please?
You are neither casual nor fashionable because you wear sandals. You have just let yourself go.that's all.
I am not sure what I hate most. Bare feet or socks in sandals. Socks have one plus though. They hide the crippled feet. Other than that socks in sandals just look plain stupid.
Every time I see a man in sandals it leads my mind back to the 60's. Free relationships, drugs, long hair, Jimmy Hendrix, Woodstock and.. sandals (and I am not dissing Jimmy, 'cause he's the man). Get over it. Some things are not meant to last. You don't see women burning their bras anymore, do you?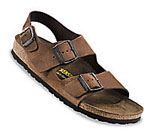 I find sandals for men absolutely ridiculous. At first I thought it was only a school teacher/pedagogue thing. Sort of the last death spasm caused by lost youth and too long married life. But now I know better. It seems that man sandals have a fashion comeback once and a while. Some fashion victims even linger on many years after, and I fear that it is more of a movement and not just a soon-to-die thing. The streets are flooding with "fashionable" men flashing their hideous feet in public. It is a mere catastrophe if you resent sandals like me.
Every summer I battle it out with colleagues, relatives and friends. Sandals for men are widely accepted in Denmark, and I guess that all logic tells me that I should accept it and get on with life. But – no – I won't abandon ship.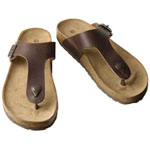 One of my colleagues insists that I am crazy and conservative, and maybe he is right. He still find pride in wearing his "camels" to work (office work mind you) just to spite me. Recently he even told me that he bought 7 pairs of brand new sandals because he got a great offer. 7 pairs?!! What would one do with 7 pairs of sandals? I know what I would do, but my parole officer has told me that I can't carry matches since the incident.
Don't do it. Don't buy sandals. The shops and fashion people only try to trick you. Maybe sandals look harmless and comfortable when they stand alone, but that's just manipulation. Put big filthy crippled man feet inside, and see what happens.
Try 'Google Pictures' and search for sandals men. Tell me why there are so few pictures of the two paired if they are so beautiful and stylish? If you don't believe me, click here.
I rest my case……
Update: A slightly different view on sandals for men
Update 2: Another fashion view on sandals for men
Update 3: This entry, worryingly enough, has same picture I used as scary example, and seems vaguely similar in the intro. My original rant is from 2006, this is from 2007. Lay into that what you want.