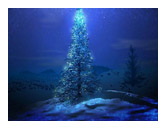 Ho ho ho. Christmas is here. Oh joy. Nothing can spoil my Christmas mood. Nothing can kill my Christmas spirit. Nothing can keep me from having the best Christmas ever. Well nothing except the usual.
Every freaking year it's the same. November starts slowly with loads of Christmas colored catalogues crammed in our mailbox. It should be enough warning to us all.
I don't mind the commercials, and I can accept that TV commercials aim on the special holiday offers. But why the heck does it have to be almost 2 months before Christmas? Let's make a law that prohibits any talk of Christmas before the 4th of December.
Why the 4th of December you say? That's pure mathematics. I'll get back to that.
I actually like the Christmas period, but it is ridiculous how the start is pushed to the maximum every damn year. Maybe other people find it great but it completely kills my Christmas spirit before Christmas Eve.
My mood basically goes like this: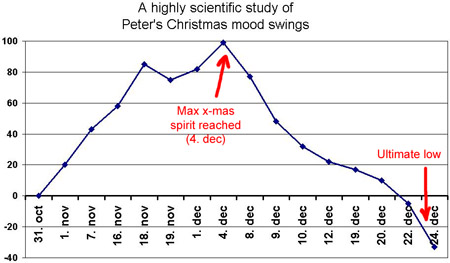 So there you have it: My X-mas mood is peaking at 4th of December. 20 days too early. I bet I'm not the only one, and I should be able to change if only the shops, commercials and so on would wait about 1 month more before going crazy.
The breakdown


Date
Event
Result
31. oct
No early warnings about the coming of Christmas yet
Blissful life not knowing about coming horror event that we call Christmas.
1. nov
The first snow is falling
You forget that soon you will hate snow and will be swearing daily as you make your way through it going to work.
7. nov
I discover that some shops decorate for Christmas.
I get a funny feeling in the back of my head that I should be worried, but I let the good mood take control.for now.
16. nov
The first Christmas related song reach my ear
I find myself in the middle of a good whistle and discover the song in the radio is a Christmas carol.
18. nov
The first Christmas cookies are available
I want to hug the local baker (but I don't). Yummy, these cookies are so great and will never grow boring.
19. nov
I get enough of the cookies.
Cinnamon is great, but lets face it: don't overdo it.
1. dec
All shops are now decorated with Christmas themes and the early sunsets give a cozy feeling with the many Christmas lights.
I get all gentleman-like holding doors for other people and letting old ladies get ahead of me at check-outs. Note to self: Time to up my medication again.
4. dec
Taking a stroll in the now beautifully decorated center of Aalborg only stopping to warm up on some "glog" and "aebleskiver".
Totally ready for some good Christmas eating with the family. Nothing can spoil this mood. I hope
8. dec
Starting to get fed up with Christmas related stuff, and now longing for it all to end soon.
As a colleague tell me that they look forward to Christmas Eve I try to control my mimic, but fail horrible letting of a yawn turning into a sigh.
9. dec
I hear "Careless Whisper" on the radio for the 137th time since 1. November
I want to assault George Michael in a public toilet with a piano wire by luring him there disguised with a "YMCA outfit" (fake mustache, sunglasses leather vest and a pair of leather pants).
10. dec
Someone reminds me that now would be a good time to plan buying the gifts.
"Someone" is also one of the suggestions that will come up for an ingravement on her tombstone since there was no teeth to help finding Jane Doe's real name.
12.
dec
The annual Christmas calendar (Danish tv-show mostly for children in 24 episodes) starts to get on my nerves even though I don't watch it. Nothing more eerie than seeing grown men dressed in Santa's helper
clothes.
In the night – I dress in completely black (go – ninja go!) and make a visit to all front lawns in the neighborhood. Here I molest all their Christmas stuff, including the Christmas clad goblins that scarily enough keep smiling as I smash them. I leave only a huge red, white and grey mess and an mocking laugh as I disappear into the shadows.
19. dec
Panic strikes as I finally get that Christmas gifts don't buy themselves
This is where my: Christmas-is-NOT-about-the-gifts-but-the-love-speech usually starts, but no one seems to care and demand gifts anyway. I am ready to convert to another religion.
20. dec
Shopping for gifts in over-crowded shops
I curse people, waiting in line and Christmas in general. I consider buying myself an early semi-automatic Christmas gift and play real life Counter-Strike inside the shop.
22. dec
Someone tells me to lighten up and enjoy the Christmas season.
Coincidently the very same woman's corpse will be found in
spring, when the sun starts melting the ice in the nearby lake.
24. dec
Disney Christmas show on the Telly
I want to violate Goofy, Donald Duck and Pinocchio in ways I
can't write here.
Oh yeah – and if you wonder; I really am Mr. Scrooge, the Grinch or whatever will kill Christmas.