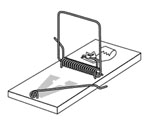 In my mind I was somewhere else. Sure I did see the sign as I entered the parking lot. Sure I read Europark demanding that you set your arrival time at the parking disc. As one would expect – I forgot. I was already shopping inside my head before I opened the car door. What was it I had to buy? Oh yeah – rice and what more? So I forgot about the parking disc and went shopping for 10 minutes. I know. My bad.
Bing! Parking ticket in the windshield. "Please" pay 510kr (about 90$) within the next 10 days to Europark. That's the most expensive rice I ever bought.
I know that I can't dodge paying the fee. I also know that I can only blame my own stupidity and lack of memory for the ticket. But why do I feel like I've been f.. really good then? Why is it that I suddenly have a new feeling of hatred towards private parking companies?
It's now 9 hours since I found the ticket in the windshield and I am still upset. Even though my blood has stopped boiling and my brain is moderately working again I am still angry. But why? In the end it was my own fault, right?
I finally figured it out. I am pissed because there is no logic in why someone would hire a private parking company for that particular spot.
Why so?
Well, first of all, we are talking outside the city centre. It's not like it's a crowded parking lot, and there is absolutely no reason what so ever to even keep control. Why would you limit the parking time to 2 hours on a spot like that? This particular parking lot is there so people conveniently can leave their car and go shopping in of the 3 small shops nearby. There is no other nearby shops and very few other things that draw attention to parking your car. Neither is it a spot that invites you to put a tent and have a 1 week camping trip with your friends. In short, you don't get the urge to over-park.
There is no information box or control at the entrance, just the sign (and apparently a Gestapo wannabee occasionally patrolling when he/she is not saluting the Europark logo).
I have used the lot many times before they hired a private parking company, and I have never seen it remotely full. The parking lot was there long before Europark was hired and really – there can't be any problems big enough to hire help. So why would you?
When I parked the car there it was about half full. That's the most cars I've ever seen there. It was at 15.15 o'clock and rush hour was setting in. It's not like I was blocking traffic or scaring potential customers away from the nearby shops (that I know of). I parked perfectly inside one of the small outlined boxes.
Well, maybe some idiot left his wreck of a car there for a year on an earlier occasion, which triggered the parking lot owner to hire a private company to keep it clean. What do I know? But sure as hell it wasn't because people in general tend to over-park that someone decided that parking "control" was needed.
I always had a neutral opinion about the city employed parking guards and I still do. The ones who patrol the middle cities to keep the roads free for traffic and so on. Their work is justified and needed. Sure there are some jerks among them, but those types you'll find in all jobs.
What I hate are the private companies like the Europark. They don't care about creating smooth traffic or upholding the road law. They set up their control with one intension: earn more money. Not that they make mistakes or break the law in their effort – oh no – they know exactly what they are doing. You can't pinpoint a single mistake that they have made, but they don't know ethics from their ass.
If you are a parking guard company and want to make money, where would you conduct your business?
A) An unimportant remote parking lot where there are no problems, but a lot of cars parking and bigger chance of someone forgetting to set the parking disc.
or
B) Patrol the streets in the middle city where there are lots of problems with traffic and people parking outside the outlined boxes (in front of fire hydrants, ports/doors or on the sidewalk and so on).
Right?
Then if you want to make sure traffic is smooth and the parking lots are used properly where these things are essential, where would you conduct your business?
Right – ok then.
The private parking companies' agenda is different from the public parking service. They don't think 'Do your job to keep traffic flowing'. They only think 'earn money'. Why not mix the two? There must is a reason. I get more and more convinced that these guards are paid by the cars they register and not by the hour they work. Blood sucking vampires.
Yeah – I know that Europark and their "field officers" probably do good jobs elsewhere where control is necessary, and I know that they may have good reason to exist. Bad parking is a huge problem inside the cities, but not on a spot like that one. That's my point.
There are only two words to use for the work they do on that particular parking lot: M-o-n-e-y m-a-c-h-i-n-e. In this case Euro Park doesn't fix problems for the public, they just cause them.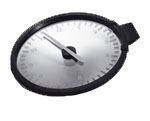 As I glanced at the bill I couldn't help but notice that the guard's written observation time was 10 minutes. Pretty much the same amount of time I was gone. Was I unlucky or?
I know that the guard was only doing his/her "duty", but don't tell me that he/she wasn't looking as I parked? It would be too unlucky, even for me. I bet my ass that he/she "vultured" upon my car with a grin all over the face as I left it (as they probably do with all arriving cars). If this is the case, why didn't that certain someone tell me that I forgot to set the parking disc instead of writing out a ticket? Because they don't give a shit about serving the public or make sure there are enough parking spots. They only care about making money. And – after all – it was my fault so what can I do.
I am not angry that I got a parking bill. I wasn't paying attention to the sign. I am, however, both amazed and pissed at the same time how money can make people sell out. To me – my experience with Europark was nothing more than petty theft. I had money and fell in the trap. They saw money and there was nothing I could do to stop them.
Bye bye integrity and hi-de-ho money.
And if you wonder: Yes – I do feel a little better after this rant already, but I now loathe Europark.