Warning: Rant coming up!
Who fooled billions of lonely housewives and fatties over the years? Who gave you a bad conscious and in the end only made your wallet thinner? Who managed to fill the shelves at the post office with loads of unclaimed parcels?
There have been tons of stupid things on sale, more than enough of fake smiles, too many celebrities selling out and worst of all: there have been surprisingly many people buying their worthless stuff.
TV SHOP – The worst miniseries I ever saw.

First time I saw TV SHOP, I kind of liked it. Not the concept nor the goods, but I had a blast watching the bad acting and fake overjoyed participants. It's so ridiculous that I expected all people would immediately see right through it. Apparently someone didn't and bought the stuff. What can I say?
Not a single product is presented without the word "revolutionary" attached. Being an at least 10 years old concept, I still wonder why I can't remember a single one of TV SHOP's products that changed life on earth? I guess I must have forgotten how they invented beer or something.
In my opinion some of the most genuine and adored TV personalities was introduced to us all by TV SHOP. Who can forget these dudes and dudettes who host these "shows"? TV never saw more happy, energetic and positive people. They use all their energy in a 20min commercial. I am sure they walk home tired and depressed every time they leave work at TV SHOP. But I am pretty sure they must laugh all the way to the bank. They have to get a shit load of money to sell out like that (I would expect to if it was me).
My all time favourite product is the Body Vibe belt for loosing that excess stomach fat. This product utilizes the excellent common knowledge that cattle, pigs and horses learn by electroshock – so why can't fat people? After all they belong in the same category, right? Apparently the average human have now grown so fat that they need a 'shocking' reminder to get in motion.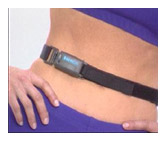 The 'body vibes' really is a disguised cattle prod. It takes advantage of your regular fat Joe's flaw to let the gut slip (see, it is not because of excessive eating or lack of exercise we are fat, but because we forget to suck in the gut). Every time he does so he will get a shocker to remember to tighten up those abs. In the end the product promises muscular and toned abs. If I were the designer I would only dare to promise chock burns on your fat flesh (and possibly loss of short-term memory). But – hey – what do I know I never bought or tried the damn thing.
Most scary though, is that TV SHOP still exists after all these years. Does this show good company management or just prove that the IQ scale needs to be adjusted to fit average intelligence?