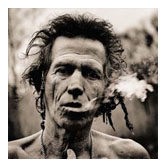 If you haven't already read part one of this guide, you should do so. You can find it here.
Tricky encounters:
As you make your way through the hazardous area that you call neighbourhood, you should be aware of the few neighbourhood alcoholic (NA) minefields that you have to enter.
Tricky encounter spot nr. 1: Taking the same bus – As you make your way into the bus you spot the NA sitting alone in the bus. What to do?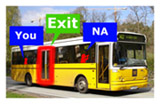 First of all, you need to master key skill nr. 2 and 3. If you have these up and going, your only worry is to pick a seat in the bus far away from the NA. You got that down, ok there is more to do.
Planning the escape:
Since you know that this fella is most likely to get of at the same bus stop as yourself, it is important to spot all exits. If the buses like the Danish city busses have 2 exits, make sure that you pick the opposite of the NA. This way an initial close encounter will be avoided.
Dodging the NA after successful exiting the bus: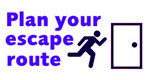 Now this is the trickiest part. Some say this skill can't be learned, but must be in the genes. This is one of the reasons why I can only give you pointers since there is no single answer that fits all situations.
Make sure you either have a good lead, or stray behind intentionally. Taking the lead, will give you the advantage, but your field of vision will be minimised.
If you take the lead, you can use:
The zigzag – Constantly change directions and project a confused mind to where you're going. Dance your way out of this one.
The tempo change – Change the pace of your walk so you gradually get way ahead.
The wrong-way-walk – Just head in the totally wrong direction and camp the sucker out (should he still follow you, you should start worrying though).
The "man-look-at-the-time-dash" – Run for it. Who can tell that you're not in a hurry? If you are in company of your girlfriend, make sure she is in on the plan or you will look stupid.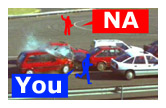 The risk-your-life-dodge – If you're desperate and really need to lose your NA, you could take your chances and try running into the car crowed street. This can be successful, unless your NA does the same. If he is hit by a car, leaving you no other choice than to obey the law and help him, you have a huge problem. Should this happen, always remember to shout one of the two following statements immediately: 'Dead!' or a 'whiner!'. A good term to use in the 'declared death situation' is "That's just death spasms". This quick thinking can save you from eternal NA gratefulness after an even worse mouth-to-mouth experience. Should this situation occur always keep key skill 4 and "man-look-at-the-time" ready. No one will frown at the lack of help if they can see you're busy.
The downside to this strategy is if you're the one to be hit by a car, and the NA revives you with his alcohol breath. Consider the indebt horror scenario to follow.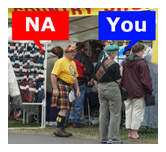 Tricky encounter spot nr. 2: Waiting in same line at the local shop – Sticky situation nr. one.
No need to say that this is a high-risk zone. You're locked in line, and an offensive NA is difficult to repel. If haven't already acquired the key skills, you're doomed. You can't fake yourself out of this one. My best bet would be to project the I'm-a-psycho-look keeping the NA interaction to a minimum.
Tricky encounter spot nr. 3 : Conceal the evidence – Don't make your front door look like a welcome sign to all NAs in the neighbourhood.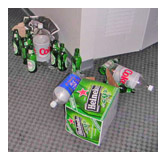 If you are the kind of person who puts your used alcoholic/liquor bottles outside your front entrance so you remember to take them to the trash later, you asked for it. Should the NA pass by he will see this as an invitation to ring the doorbell. Even if you do the next best thing and place them inside the door, he will be drawn to your door without knowing why. At first he will ask for sugar or eggs for that imaginary cake he is baking, but then you're doomed. Now your apartment is no longer the home of a stranger, but the home of a possible drinking-buddy.
Prologue
Now that I've covered all basic key skills and tricky spots in your neighbourhood (this part if you wonder) the rest is up to you. It is possible to use this new found wisdom in other cases too. Try Changing 'NA at the front door' with 'mother-in-law' and 'liquor' with 'bucket of cleaning utensils'. Just remember that this power must be used for good and not evil. If you are in doubt what 'good use' could be, here are a few examples:
– Neighbourhood alcoholics (of course)
– Door-to-door salesmen
– In-laws
– Dennis Franz
– Jehovah's witnesses
– Ex-girlfriends
– Michael Jackson
In case you wonder what triggered this whole rambling: I did have a possible NA encounter talking the bus home yesterday. It took all my NA dodging skills to avoid bumping into him.