Just when everything gets boring, this is what you get?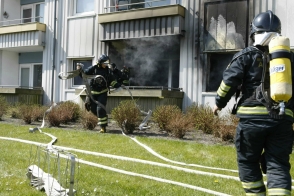 Image borrowed from EB
Just as I was about to leave work, I was informed that an apartment had exploded on the same street where we live. Fortunately the news hungry journalists were already there, and had put a picture of the apartment on the net. It wasn't ours, but in a block about 150m further down the street.
The fire department put out the fire fast. An older woman was a bit shocked, but nothing serious according to the news.
The police sealed off the apartment and still haven't released anything about what happened.
However, I did ask someone who lives within viewing range of the block, and she told me that it wasn't the first time that the owners apartment had caught fire. Also plenty of smaller fires had been started since he moved in (just as they wierdly had stopped where he moved from).
Make of that what you want, but sound plausible to me. I have myself seen an exploding paper container situated at the end of that very same block about 1½ year ago. Actually I heard the blast from my older apartment (closer to the exploding apartment) and rushed out to the balcony to see the container blown to pieces and a few smaller fires in shredded paper. I ran down the stairs and put out the flames with some well-placed stamping.
Anyway, this makes an otherwise boring time a bit livelier. Could do without the danger of nearby pyroman amateur bomb maker lunatic clumsy unlucky person though.