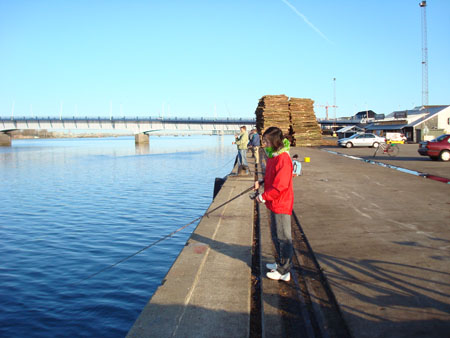 Went on a fishing trip for herring last Friday. Didn't catch anything though. Few did, even though there was plenty of herring out there. I managed to cast pretty long, but turned out that it wasn't enough to get to where the fish decided to roam.
A Vietnamese guy showed the way, when he turned up with a big grin and an extra long fishing rod, that made a crazy whipping sound when he cast the bait. Being a short guy, he still managed to cast way longer than the rest of the people there (bout 10-15 guys). He was also the only one who shovelled herring in. Often he would get 5 in one cast. His wife showed up after 1 hour and started yakking away in vietnamese. The husband didn't say much, but started smoking nervously afterwards. I can only imagine what they talked about, but guess it's a married thing. Then she grabbed the first fish (20 or so) and drove off.
Of all the people there, only one other guy caught something. From what I could figure he was just lucky, since he stood right next to me and didn't do anything different from what I did. Was there for 3-4 hours and caught nothing. Sigh. Next year, I'll have to buy new fitting gear.