No need to say that I lost…..
Participants:
200 x 180 cm bed
1 big man
1 tiny woman
Why does yours truly always end up with absolutely no space on the side of his bed every night with no room to turn at all?
Often the poor guy will end up with a stiff neck and puzzled look on his face when he opens his eyes. At bedtime the bed seems perfectly divided into man, woman and neutral zones, but somehow the woman wins the battle almost effortlessly overnight.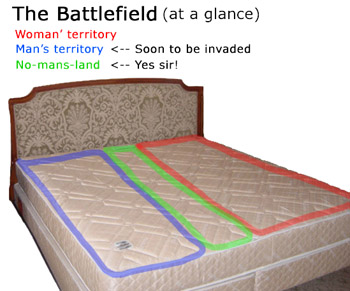 The bed pictured in this entry may not resemble the bed in your own home.