Cool! That basically says it all.

Yesterday C and I attended a drum clinic with Keith Carlock here in Aalborg. And what is a "drum clinic", you may ask? A drum clinic is when some world-class musician "tour" alone, show-off his godlike skills and let the audience ask questions afterwards. A bit unofficial and normally only the local musicians are invited. My brother is one of those (music nerds i.e.).
I love music and especially jazz inspired stuff. In my youth I was denied a drum set. My parents felt they had already done their time when my older drum-crazy brother lived home. So I had to do with playing a bit on my brother's drums way back then, and therefore my flaming musical "talent" never erupted (some would dispute and point out it was never there). Nevertheless, I got a really good idea, how difficult mastering the drums really is.
Since my brother is considered a drum nerd, he was invited to go, and dragged me a C along. C never took much deeper interest in music, so I was surprised to see her smile all over her face during the session. Actually she enjoyed it so much, that she wanted a picture with Keith Carlock afterwards (Chinese style). Fortunately I remembered my camera, and Keith, being an extremely nice guy (besides an überskilled drum wizard) agreed.
Here's the shot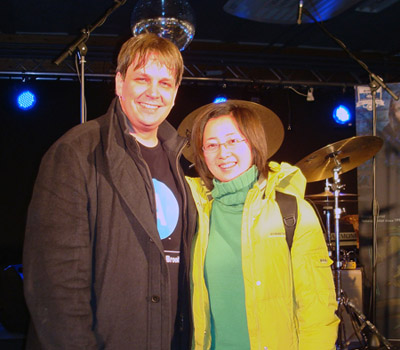 Keith and C. Unfortunately the lighting was not meant for photography. So it is out of focus and with bad colors. At least I could photoshop their faces less yellow. This is one of the reasons why I want need a DSLR camera.
Check out Keith's homepage here. Cool guy and a freaking god on drums.