As my wife returned many things have changed. Small things that I noticed immediately, and small things that gradually crept in on me. Nothing horrendous or unbearable, so I just rolled with it.
Most noticeable until now is that the toilet paper faces the wrong way, and things are not always where I left them. Like all men, I have a photographic memory of exactly where I left things, since it is always somewhere new. This keeps me on my feet and challenges my memory. It is neither casual nor lazy. I am a super genius.
Small changes until now so no fuzz and after all most are for the best. I guess men can be slobs and sometimes we need a woman to straighten us out.
Everything has been great. until two days ago.
I can live with the new clothes she bought me (since she actually has great taste, and apparently know mine as well which is kinda disturbing), but I am positive that she only bought a specific pair of socks to humour and/or spite me.
See, I am the kind of dude that has socks in 3 different colours: white, grey and black (my all time favourite by the way). No fancy drawings or funny stuff on my socks. Just plain boring socks that suits the purpose of keeping my feet warm (or make a barrier to peoples noses if you will). They will do for all occasions, and largely makes my fat feet blend into my also boring shoes.
During a shopping spree back in China, the misses must have lost it. You know: Woman-buy-extremely-colourful-"pretty"-clothes-for-baby or woman-buy-clothes-for-dog-style-crazy (yeah, that's right, you know what I'm talking about).
Somehow she decided that socks with "fingers" for every toe are just what the doctor ordered. Well, not for her of course, since that would be ridiculous looking, but for me they are absolutely gorgeous. Apparently nothing can make me look more stupid as it is, so why avoid the inevitable and let me try to dress down? I am a big monkey and sure do need the extra mobility in my socks, so I can grab whatever branch or banana to my liking, right?
Just a sec…. Hang on while I climb the Empire State building to wave off some Bi-planes…. Ahhh that's better.
Where were we?…… oh yes. So trying not to hurt her feelings (it was a nice gesture buying these for me I suppose), I tried them on. One day with these babies, and you had enough. You know the feeling when your socks creep up between your toes? Yes – that feeling. Just imagine it being all day without relief. You constantly try to wiggle your toes to get rid of the discomfort, but nothing helps of course. Since they are extremely beautiful, it would be a shame to wear 2 pair of socks which I regurlarly do these colder days as it would hide the suckers behind a more plain pair. So I had to go "solo-socking" on a day that just wouldn't end.
Actually I had no choice. My wife forced them on me on an all-day-out trip including a car ride of 4 hours.
Now, I'm the type of bloke that easily gets cold feet. Knowing this, my wife still didn't hear my pleas for mercy. No matter what I did, I had to use the socks for the entire day. And ohh yeah, my monkey toes were frozen to the bone. Don't you know it! It is still a mystery why I didn't catch a cold.
All my wife did was laugh with no holding back as she forced the bastards on my unwilling feet. Even when I moaned about them during the day, she just laughed. I guess that I should have objected more, but I was willing to trade a cold, indescribable discomfort, plus an evil laugh for the horror of a long day of bad conscience. So there you go. My wife either hates me, or needs a Ken doll to dress up (if you wonder, I am WAY better looking than the Ken doll, which must be why she chose me).
The first person to call me 'whipped' is the first person that gets it – right ok right?!
Scroll down to see the beauties, but beware, you asked for it. Before the chock please look over your shoulder and make sure no woman (or male hairdresser) sees the picture. It is for your own sake. Take my advice and NEVER let your best half know that these exist, or I guarantee that you'll be suffering same fate. You don't know pain, before you wear these blood squeezing killers. I'd take a kick in the groin before using them again. Yeah, you heard me! (I just hope my wife didn't).
.
.
.
.
.
.
.
.
.
.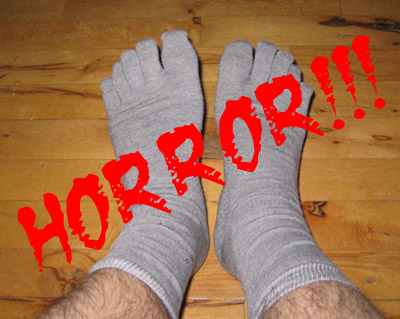 Note: Any stupid remarks about my manly legs WILL only result in the instant release of the video showing my toes wriggle for help, okay?