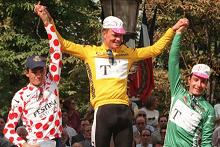 …Bjarne Riis used doping during the heights in his career.
Only questions still left are:
1) Why didn't he admit it sooner?
2) Why is he still proud of his victories?
3) Why doesn't he say that he knows that most other of the elite riders used it?
I'll answer:
1) Because he didn't think it was that big a deal, since many others did the same. Also he hates the press and would hate to admit that this time they are actually correct.
2) Because, even though he used drugs to enhance his performance, he still had to work hard (which other not doped riders apparently didn't?).
3) Because some are his friends, and then maybe an ounce of integrity (match integrity with cheating, and then you got what?).
I just hoped he would have said those things instead of just admitting and say "sorry"….
Let's look away from the fact that many other top riders also used drugs, and take a look at those who didn't:
What if Bjarne Riis and his dope buddies hadn't either? Wouldn't the outcome have been different? What about the money the abusers gained during their careers? Are they legit, or stolen? What about the guys who didn't cheat, wouldn't they have been entitled to those money? Maybe some stopped cycling because the money/"talent" weren't enough? Did they just scrape by instead of having a good salary and a chance to save up for their life after cycling?
This reeks of egoism. No matter how well I can understand the pressure Bjarne Riis and other riders were under, his confession still needs more than just: "I'm still proud of my victories".
We need more than just a confession forced by the press. It has to be heart-felt. Come totally clean and show some remorse please.
And sorry to say it, but I still like the Riis dude in a strange indescribable way. Can't put a finger on why, but I feel that one day he may see his doping in a broader perspective, and not just from an egoistic view. He's not stupid, just stubborn and selfish.