I have wanted to upgrade my computer for a long time. The urge has been even bigger after the new Core 2 Duo CPUs arrived.
Until yesterday I had a 3½ year old motherboard and processor. A 2.8 GHz Pentium 4 clocked at 3.36 Ghz. Even though it worked well with most applications, it lagged way behind when it comes to the newest games. So I had to bite the bullet and tell C what a HUGE importance an upgrade was to world peace.
She agreed that I should do it, but of course gave me the "It's gonna cost ya later, ye fat fuck"-look. But for now I'm happy.
Wednesday the new upgrade came in a nice parcel, and the installation went smooth. Actually so smooth that I didn't have to re-install Windows, which is a first timer for me. Normally I would always be forced to re-install or do it pr. automatic, but I felt so lazy that I just accepted that it worked. I installed Windows XP not that long time ago, so why bother. I'll do a clean install when the shit breaks down next time (which can be anytime soon if I know Windows).
I wanted to do it right, but the wallet said no. So I went for a compromise. Instead of buying new ram, graphics card and hard disks, I bought an easy transition motherboard from AsRock. I usually always buy ASUS and normally the more expensive ones, but AsRock is the only company that I know of who provides this solution.
It has both AGP and PCI-Express and DDR/DDRII support, which lets you reuse some of your old stuff upon upgrading.
So my machine now looks like this:
AsRock 4core dual VSTA New
Core 2 Duo E6420 2.16 GHz New
RAM: 2Gb KHX PC3200 DDR400
Hard disks 2 x 74GB Seagate in raid for boot partition
Hard disks 2 x 160Gb Maxtor SATA hard disks
GF7800GS 256Mb AGP
Sound Blaster Audigy ZS
Noname USB 2 port PCI adapter
ASUS TV card
My Chieftec tower case
21″ Samsung 1100p CRT monitor
The downside to the upgrade is that this system has slow ram, which won't let the CPU show its real potential, and the PCI-Express port according to rumors only runs at 4xspeed (Update: confirmed). So if I upgrade GFX card, I may also consider buying new mainboard at the same time. Also the hard disks are now really turning up to be the bottleneck in my system as I've expected for a long time.
And – oh yeah – if you wonder, I have already overclocked the sucker to 2.4Ghz. Unfortunately the cheaper motherboard won't let me go higher even though I know the CPU is up to it according to reviews. It doesn't sweat at all. I also upgraded the Bios the the lastest version.
In the end I am happy. The speed in games is increased plenty. Counter-Strike:Source now runs a steady smooth 100+ fps, which weren't the case before. Actually I didn't play it at all, due to this. But maybe this new acceptable framerate will make me retire good old CS1.6.
SiSoft Sandra wouldn't let me make a CPU comparison test. I don't know why, but I suspect it's a classical SiSoft error. I can read on the net, that plenty of other people have the same problem.
When I get time, I'll do some more testing, but so far it looks good.
Here are some pics from the big operation: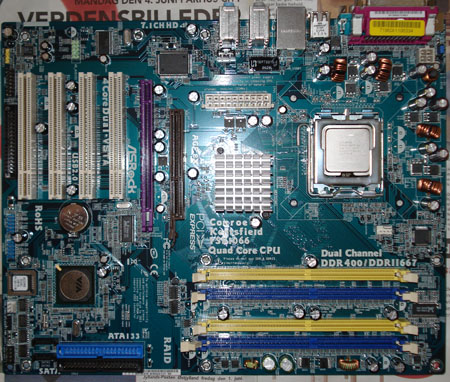 The mainboard before fitting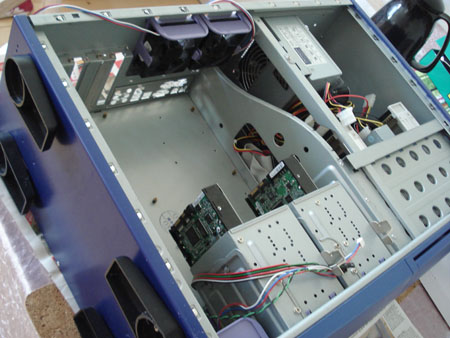 The case before the stuff was installed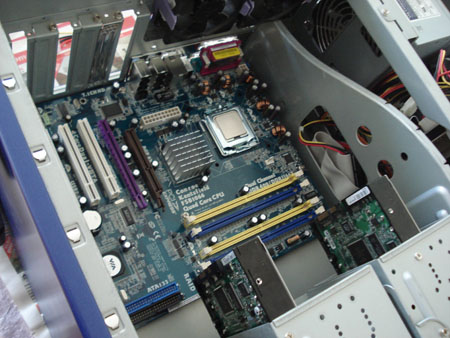 The mainboard fitted in the case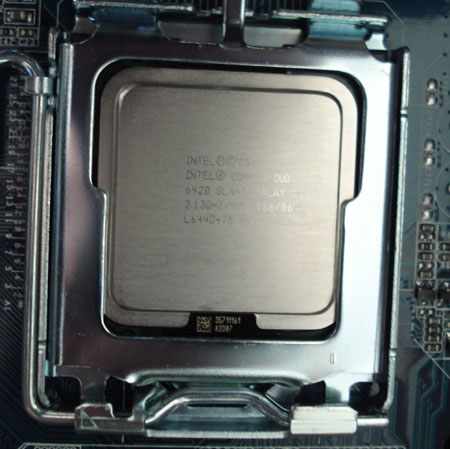 The Core 2 Duo E6420 cpu
All cords, busses and parts installed and running