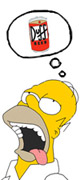 Wanted to write about this beer for a loooooong time, but somehow neglected it. Christmas Beer from the good folks of Greenland Brewhouse.
Round Christmas I found the beer at the local supermarket. Just had to buy it. I've never seen a beer from Greenland before, and let alone a Christmas one of that.
What is more interesting is that the beer apparently is made from melted inland ice which should date back about 180.000 years. So if I get a strange rash, loose my hair or insanity, you know that I may have tripped over a 180.000 year old forgotten germ or decease. Weeee
As if the inland ice is not endangered enough in these Al Goreish days.
Anyway, it tasted pretty well. I had better, but no doubt a good beer.
Worth the money? No – not really. Only the first time, just to say you've tried it. Wouldn't buy it again unless the company lowered the price or made one with a different taste.