If you're this drunken 7.45am on a Thursday morning, you might want to revise your lifestyle.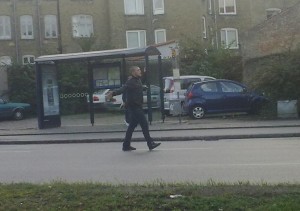 Snapped with my cell phone while driving to work. This guy was alarmingly drunk and decided it was clever to walk towards traffic on a 60km/h street looking enraged and gesturing wildly to oncoming traffic. Behind him, out of sight, is his equally drunken buddy holding a beer managing to remain impressively calm.
I'm so proud to call myself his fellow countryman.