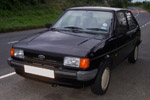 I wanted to write this entry for a long time, but just never got around to it with the baby and all. I think it's important to tell, though.
One of our neighbours is a single mom living alone with her 2 children. She has a tiny old car bought from her granny. Nothing fancy, but its dependable. You don't have to be Einstein to figure out that her budget is tight.
A few months ago I met her outside in the morning, where she told me that the car had been stolen during the night. The car was parked right next to ours outside the kitchen window. Its always locked and even secured furthermore using a steering-wheel lock. This particular night she forgot the extra lock though.
She depends highly on the car and was pretty upset. It didn't help her mood it was the second time it had been stolen in 1 year.
The same evening I talked to her again as I came home from work. She had news. The same morning she noticed her car being driven downtown by 2 kids around 14 years old. She sprinted after the car, tore the door up and yelled profanities to the stunned kids. They immediately ran off, but later the same afternoon they were caught by the police.
End of story and everyone happy? Not quite.
Since the guilty party was found, she sent the car to repairs and had the locks repaired. Repair bill: 8.000 DKR (about 1.500USD) that of course was to be paid by the thieves or their guardians. Add to that a ticket for theft.. You'd think.
The police informed her that they would drop the ticket for the theft, as neither the kids nor their parents could pay both ticket and repair bill. This way they hoped it would encourage the thieves to least pay the repair bill. Unfortunately for my neighbour they couldn't pay that either.
See these 2 boys are already notoriously troubled children, that aren't living with mom and dad anymore. They live in a secured institution with 24 hour supervision close to our home. They are constantly overseen by 3 adults per youngster, giving you an idea of their attention needs. This particular night they managed to sneak off nevertheless, leaving our neighbour with a hole in her economy that only she can fill.
To make things worse, a young driver rear-ended her as she was waiting to turn off the highway a few weeks after the first repair. The car was totalled. She escaped with a minor whiplash injury which fortunately seems to have healed well. At least this time her insurance kicked in. The downside is that she's now without a car and the insurance probably won't pay much either for an old car. Worst case is that she only gets just enough to cover expenses from the previous repair bill, equalling even break on money, but no car.
So, the real question left is: Who's to pay for the damage the youngsters did?
According to the law, the institution taking care of the kids can't be held liable, and since their parents are not legal guardians they don't have to either (and probably can't anyway). The kids are too young for jail (you have to be 15 y. o. or older), so basically they can wreck havoc without any real punishment until they turn 15. As far as I know their punishment for the theft is "house arrest" at the institution. Pretty much the same situation as before the theft and that doesn't really solve my neighbour's car/money woes, does it?
There's a hole in the law here. What if the kids set fire to a house or even worse next time? Is no one taking responsibility for what they destroy when they can't themselves? In my opinion, the institution (the state) should pay up in this situation, since they agreed/decided to take care of the kids. I know my neighbour shouldn't have to suffer for other's bad parenting; social problems or whatever indirectly instigated this problem in the first place.
What do you think?