Day number 2 and my jetlag finally disappeared. I am not sure it was the time difference that gave me this feeling only, but more likely the long flight. Still I had problems sleeping at the right hours, but this was a slight problem.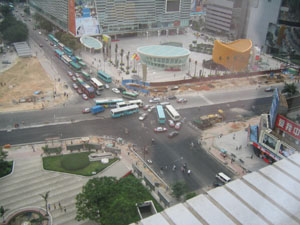 The whole day before really went well. The interpreter really was a bonus, and she gave me a good communication to C. Also the dreaded moments that normally would be there if C. and I had been alone, was eliminated. Speaking to each other we had a good "buffer".
The evening before I gave C. the gifts I brought to her in my hotel room. They seemed to hit the spot, and unlike what I heard about Chinese customs, she opened them with me watching. I read in different books about China, that opening gifts is normally not done, until the giver has left or you come home to do this on your own. I discussed this matter with C. in our letters, since I like being prepared and would have all kind of crazy thoughts if she just took the gifts and went home. I guess she decided to be good to me and open them in front of me the "western way". Sweet girl indeed.
Since we both felt the day before went well, we decided to meet the day after.
We agreed on going to grab a piece of food before continuing to our real destination. We went to a restaurant that soon became my absolute favorite. The place served amazing dishes to affordable prices (seen with Chinese eyes). A dinner for one person with 3 different dishes only cost in the region of 20-25RMB. A real bargain. You don't even have to order a drink, since new brewed tea is always included in the price. To Danish bloke this seemed a bit odd at start, but soon I came to love drinking tea to my food (and sometimes still do this back home in Denmark after the journey).
Before departing form my hotel room the day before, we decided to go to the "Window of the World" the day after. Shenzhen is really not what I would call a tourist city, but still have some things to show for itself. One of the people magnets is Window of the World. I read about this place before going to China, but big was my surprise when I actually saw it. From what I understood it was a showcase of miniature buildings of famous places in the world. Chinas own way to show the Chinese a bit of the outside world, without having to go there yourself. Somehow my imagination decided that the place would be a big museum-like building with exhibition cases around the walls showing tiny buildings with the surrounding environment. I was wrong.
When Chinese do something, they do it properly. We went by taxi (a 50RMB 45min drive) and arrived at the entrance. Besides the hordes of people, the first thing I spotted was the Eiffel tower a bit behind the entrance. Still not sure about the distance to the tower I figured it was pretty big, but still not that big. I was wrong. The tower was build to be one third of the original, but still managed a whooping 108m in height. You could take an elevator to the top, so it really was pretty big. My deluded thoughts of how the Window of the world was a museum-like building soon disappeared.
The place is actually a big park. It is hard to explain about the size if you have not been there yourself, but we made almost all the sights on a 5-6 hour walk. We had a few breaks, but did not linger long at the different sights. The park was too big and there was too much to see. Besides the buildings that you would expect there was a lots other sights that I never heard of. Just shows to tell you that even though you think you know much, you really don't.
On of the real showstoppers was an underground snow track. This was a very surprising part for most visitors, and there was a lot of "waaaa's", when people entered the room (a "waaaa" can be compared to an American "waaauw" uttered whenever someone gets surprised). Even after all the other surprises this was a big one to me too. The track was covered in "artificial" snow. Well artificial in the way that it is real snow that melts and all, but of course it must have taken a lot of machinery to provide it in a 28-30 degree place like Shenzhen (this is really what fascinated me, not the snow). Since I come from Denmark, and we recently had a lot of snow (as every year), I really did not feel the urge to go skiing. Neither did the girls, but the interpreter stood at the window watching with open mouth and a dazzled look on her face. She came back to me and very exited asked me if I did not want to see the snow closer, to which I said, "Naaah, I have seen snow before". She replied in the most surprising manner: "But it is snow? Don't you want to look?" and returned to the window to be amazed. She told me afterwards that she had never seen real snow before, since she lived in Shenzhen all her life and never had been far north to experience a winter environment.
We took a million pictures in the park, which gave me an excellent excuse of getting some great pictures of C. I hope that one day I can put an image gallery of some sights to show some. Pictures say more than words.
During our walk through the park, we came across a little shop that sold ice-lollys, candy and as always water. The girls had an ice, and big was my surprise to find that the shop had a Danish ice-lolly too. On closer inspection I found that I had just witnessed my first product with the missing copyright in China. Yes, the ice-lolly had the same name as the Danish version, looked the same, and even the logo was the same, but this was where the parallels ended. The girls must have been laughing inside by my puzzled reaction, because I must have looked like a big question mark.
During my first days in Shenzhen I really felt like a foreigner. I guess you can count on one hand how many non-Chinese people I had seen. I actually liked this, and also felt good that I did not have a travel buddy from Denmark, since this pressured me to learn a bit of Chinese and not just talk to the guys. At the same time it developed my English skills. For the first time ever I found myself thinking in English, which was pretty scary. Suddenly my IQ dropped since I sometimes was struggling with the words inside my mind. Must sound pretty stupid, but suddenly you feel like a little boy without fluent thinking again (feel free to comment this after reading).
I think that me being pretty alone in the world among Chinese was a very good thing. I believe it brought me closer to C. I was forced to learn some Chinese verbs and interact with Chinese only. Learning the hard way, yes, but this was valuable.
One thing that was completely new to me was the feeling of being a weird stranger. No doubt that I looked different, was a bit taller than the average Chinese (still not that much, about 173cm), and looked a bit of touristy. I had a feeling of being a gone-wrong experiment of cloning a celebrity and a hideous alien. No matter where I went people looked at me as if they had never seen a westerner before. I even tried to stare back in a friendly manner, but I only succeeded in embarrassing the curious person a few times. You get used to the looking, but I guess this will become pretty annoying in the long run. Gives me an idea of why celebrities go "kung fu" on the paparazzi some times.
2 days and I found a brand new feeling of connection with the few foreigners I came across. In the WotW Park I saw a dance company with a mix of foreigners from all around the world. I almost greeted them like they were old friends.
The dark was nearing and we had seen almost everything. At least what we wanted. We headed for the exit. Suddenly we found that in short time would be a big show with some Chinese dancers. We decided to see the show, and bought some tickets. The show was actually pretty amazing, with some skilled dancers and great costumes. The show was an ode to the different civilizations and the costumes matched. C. wanted some snacks, and went to buy some. Big was my surprise to find that snacks meant some fried corncobs, boiled eggs and popcorn. Popcorn I know, but the other two snacks are new to me. I guess corncobs are normal in some parts of USA too, but I have never seen this in Denmark. As usual I was the big laughing stock trying to digest the corncob C. bought for me. Never had one of these before and somehow found it correct to eat it from the end (insert silent "doh").
After the show we were all very tired and drove home to the hotel. Our interpreter and guide insisted on not getting paid full fee, since she had a very good time, but I decided that at least she should have for the 8 hours as prearranged. Also it is easy to be generous when the fee for 8 hours of translation and guide duty only costs 300RMB, right? No matter what, she was worth every penny.
More to come