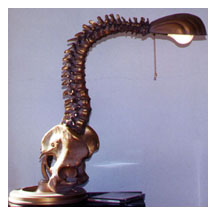 Answer: When you get a sore back because of ??????
Well, your guess is as good as mine. I really don't know what hit me, but I suspect it has to do with my sleeping woes.
Age is gaining on me which nature kindly reminded me as I woke up one morning and felt a huge stiffness and matching ache in my lower back. The pain gave me such a hassle that I considered calling work and say that I wouldn't make it. I didn't though and endured hellish days looking like a rheumatism struck Quasimodo.
Of course it started on the one day where I finally had the whole bed to myself for the first night in more than ½ year (look here and here for the scary details)
I still have some hurting which varies from day to day (but at least it lessens slowly). It started on the 11th of November. That way too lengthy and would have never lasted that long in my youth.
I'm old but at least I'm not grumpy oh wait. *sigh*