So, I had a boring evening. And do you know what nerds do when they are bored?
They fiddle about with games, programs or…. their homepage's theme.
If you haven't guessed it already, I changed to a theme named Mistylook. I'm not sure if I'll keep it yet. I was kinda fond of the old one too. Time will tell.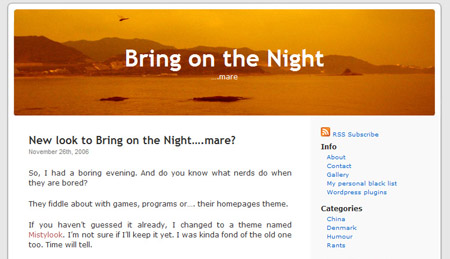 Old theme

There are a bunch of cool free themes just a few clicks away, and I have installed more than I need. Well, you never know if I need another shift in the near future. If my Christmas spirit is still alive closer to Christmas, maybe I will go all the way and make it a blogging Christmas too.
Should I keep this one, or?