Finally the much awaited sequel to Battle of Middle Bed is here. I bring you:
The battle for middle bed II – The two pillows
My patience has paid of. Now I have proof of my wife's evil invasion plans of my side of the bed.
Spot the problem in this picture (mind that I am the husband and therefore genetically loaded with slob genes, which in the end means: I didn't make the bed):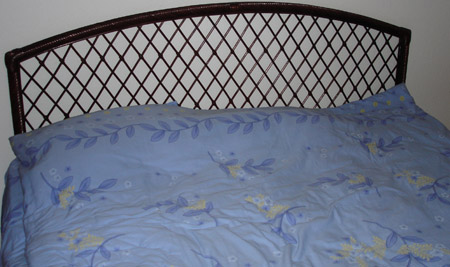 At a glance it may look normal (if you forget about the choice of colours). But to the trained eye, one will immediately pinpoint the 2 "bumps" from the pillows lying underneath the quilt. Notice how one is settled in the centre of the bed. Old readers will know that this can only be my wife's, whereas mine therefore is placed dangerously close to the edge.
At least she now gave up the charade, and stops pretending that it's my fault I have no bed space at all. That's married life for you.
Now I just hope for the third and final episode of Battle for Middle Bed III -The Return of the King. As if that ever going to happen.